Hey everybody,
great news!
My transition is in progress ... and it feels like a second birth. I am so f*cking grateful for this opportunity.
In terms of music I have been productive ... and, yes ... visible changes here, too.
Arrangement/style of tracks and - of course - pitch and quality of my vocals have changed. Had to adjust the requirements for recording/producing a great deal. *har!
So, folks, two new productions have just gone live on the various streaming-platforms!
Check out #Apple Music, #Spotify, #Tidal, #Amazon ... for :

and

Blessed be ... keep rocking!
Text and CD-Cover-Designs © Wotan Beißwenger, 4th of April 2022.
Discography for reference:
---
Archiv (Blog bis 1. Juli 2021)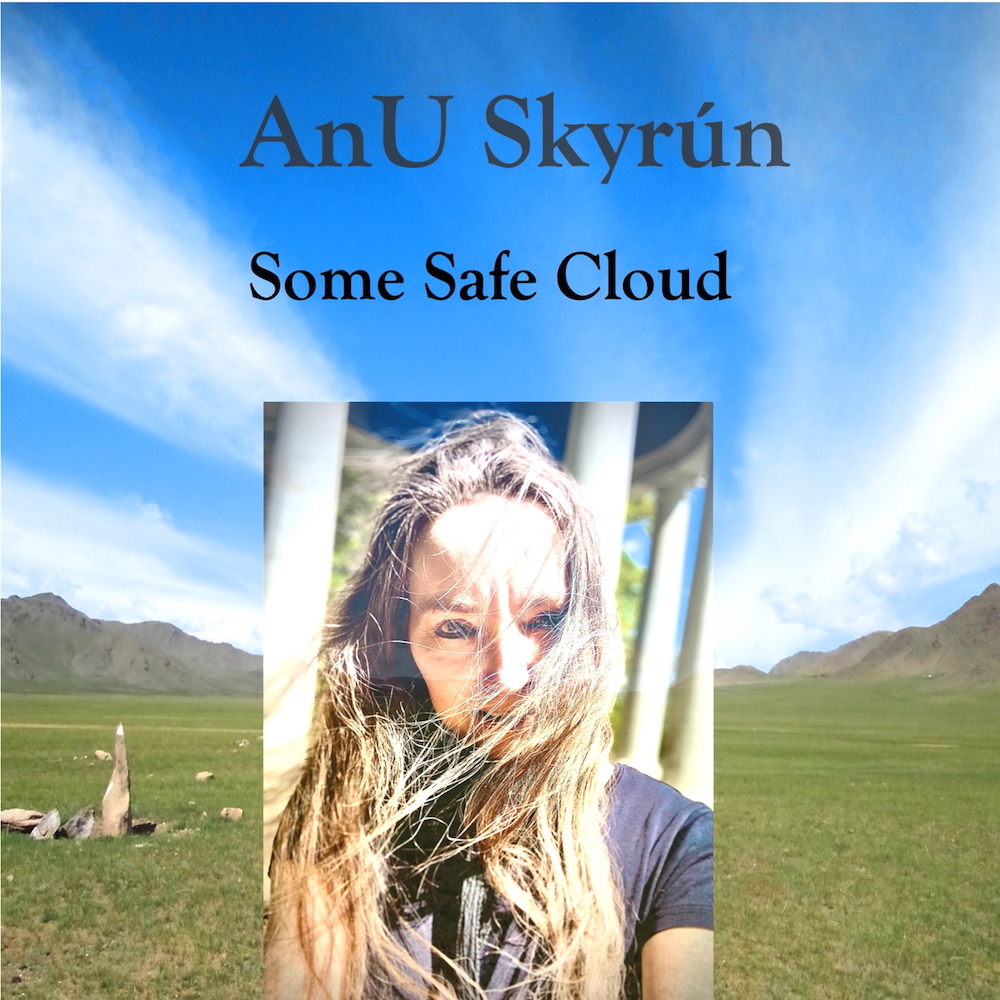 The whole process of producing this new album was a weird and somewhat funny one: I really tried to focus on getting all these writings done (bookwise, I mean), but my Muses kept on intervening and pushing me into sonic realms. It's always like this in fact! Seems "they" want me to compose music first place. Anyhow I gave in (as I have trained myself to do, because I know by experience, what happens, if I don't).
The rough versions of the current tracks I had posted in this blog before ... at least most of them. But these weren't ready for a CD, meaning I had to rearrange and revise quite a lot.
Genrewise I had my struggles. Originally I had planned to return to the "alternative section", ... but admittingly this genre does not cover all my productions. Identifying the northern tribal influences as some sort of red line, I then decided to locate the project once again in the "world-space".
So, these are the tracks you will encounter ... :
1. Leave my Hemisphere ...
This has been my latest production appearing in this blog. Some of you might still remember it, especially the powerful chorus ... .
I have chosen this track as an intro, because its energy is powerful and at the same time somehow soft and intimate. I personally like this mixture ;).
Lyricwise it tells about all these "not so dear" things and people/relation-ships all of us carry through our lives. We cannot step back in time and eradicate their hurting influences on our minds, bodies and souls. But we can - and in fact we have to - leave them behind at some point of our path. To stop victimizing ourselves and continuing the blame-game with others. It's up to our own legs and guts, to move on!
2. Nauthiz (My Myasthenic Helvegr) ...
Lady Hagström meets synth and drums and vocals.
Again a very personal composition. Nauthiz in northern lore is the rune of "emergency situations", meaning of those situations in life, where immediate change and action is necessary and about to happen ... whether we appreciate this or not, does not matter at all. It just will have to happen. You cannot evade it. So ... better to play our active part in this, accepting the shit-uation, naming it, and see what we can do and learn from it. I guess this is when most people start to pray or hope for an escape-button.
For me as a very active and ambitious person it was quite horrifying to suddenly be thrown out of everything by myasthenia gravis, an autoimmune disease, which occurred after my second spine surgery. All that was/is dear to me ... outdoor-stuff, dancing, running, playing all my instruments, singing, talking, eating :))) - just to name a few - from one day to the other turned into impossibilities or at least almost no-goes. Anyhow this taught me how to learn patience and use my stubborness to train and regain my powers ... and accept the dependency upon medication (this was and still is a really hard one!). My creativity and my passion for music and composing helped me a great deal, too.
The symptoms of myasthenia gravis are very similiar to those you find mentioned in traditional sources, describing the various stages and stations of the northern Helvegr, the path of the "straw-bed-deceased" to Hela.
Hence you find some traditional phrases like "tongue of wood" in my lyrics.
New Vocals and new arrangement!
3. A Sound-Nerd's Road to Cello ...
Since about one month I train myself to play Cello. I am really passionate about my new Cello-fellow ... I love the tonal range of this instrument, comprising about four octaves. And I die for the timbré of wood, which no whatsoever Synth can imitate ... I am still a bloody beginner, although a dedicated and daring one. Therefore you find a lot of "Cello-bits-and-pieces" in my recent compositions. This track is one of my favorite self-composed and -produced Cello-instrumentals so far ... more to follow in near future ... sure ...
4. Some Safe Cloud ...
The title-song ... . And the most difficult one in terms of a clear "genre-assignment" ... oscillating somewhere between "chill-out", ambient and even some jazzy elements ....
Some of you might remember the dialogue of piano and native flutes ... .
New Vocals ... for better sound-quality and more intensity. Also I added some Cello-sounds which match perfectly and support the chilly atmosphere. As this song was far too long (about 15 minutes originally) I had to rearrange and reduce its length ... .
Lyricwise: As a Sci-Fi-nerd I have my favorite planets ... one of them is Jupiter and its moons. That's why you hear about the "diamond skies of Jupiter" in this song ...
5. Galactic Escapism ...
... continuing the galactic journey ... . This time accompanied by Lady Hagström. Yes!
The track is about the human greed to expand on the cost of others ... . Humans first ... no matter what this will cause to other species around ... . Therefore ... although I am (also) curious and (ok.., yes) crazy about manifesting new galactic homes somewhere in this vastness of known and yet unknown universes, I am at the same time anxious we might repeat our human history elsewhere ... . That is exploit according to our needs and greeds and whatever we come across ... .
Added some effects. Some remastering.
6. To a Lost Hero (Tristan) ...
This was one of the heaviest mastering-challenges ... due to the drums towards the end of the track .... *argx. And also in terms of organ(s). Like with many sound-guys, my ears are very sensitive to high frequencies and the organ parts are fond of them. Should be easy to "EQing" but it somehow kept on resisting.
Harmonywise this track is inspired by the "Wagner-Tristan-chord". Like always when the Muses push me to compose I have "movies and images" going on in front of my inner eyes. In fact I rather tend to see the images first and then hear the matching sounds or try to find them. In this case I had visions of an ancient battle-field, like the one you find on this CDs cover. It was a very striking experience for me to put my own feet on this ancient place close to Karakorum (central Mongolia) and feel the power(s), which are still wild and alive in this vast valley ... .
This track goes to all, who have left their bodies behind in the vastness and beauty of the mongolian steppe ...
7. To A Willow Tree (Sing for me) ...
Back to Cello ... this was my second "vocalized" Cello-composition. It's a rather calm and at the same time emotionally intense piece of music. Lyricwise it's about loss and desolation, the longing for a new guiding-star as the old one suddenly disappeared into nothingness. And it's about healing those losses and the resulting scars ...
8. Fling my Song (Perthro) ...
Lots of drums and rattles in this song ... and a bunch of tribal vocals, too. And some "Diva", my modern-concert-flute :).
Lyricwise this song is about a spirit, who fell in love with a human and tries to contact him. But the latter is not able to neither see nor hear the spirit world. The spirit anyhow carries on desperately trying to make itself visible to "its human" ... . The track is also about the power of (the) fate(s), that is, in northern tradition the power of the Nornir: If you are assigned to one specific realm of being, like Midgard or Vanaheim or ..., you cannot easily travel and communicate with other realms unless the Nornir approve to it, meaning they see some sort of benefit in granting you this ...
New Leadvocals and a lot of rearranging ...
9. Taming the Beast (Trying to) ...
This one had a lot of clicks, when it showed up in my blog!
I guess it was due to its powerful beats and due to the Cello-beast ....*har!
However this track was (and probably still is) one of the mastering-challenges ... and I worried a lot, whether to take it on the CD or leave it.
Also genrewise it's definitely completely "off" ... electronic realm, *yau.
But because many liked it so much, here it comes again ... re-arranged and re-mastered!
Addition 29th of April 2021: It's really funny ... just realized that the title of the track exactly reflects what I felt when I did mastering-version no. 1000 (felt 1000, in reality about 20 versions) ... and: Seems like the appreciation for this track continues ... most clicks so far on Apple Music ... (followed by the title-song "Some Safe Cloud" and the Cello instrumental ...).
10. Northern Epic Frenzy ...
As usual I like to offer some sort of "experimental frenzy" at the end of my CDs :)).
This track hasn't shown up in this blog before. It's completely fresh and new ... and crazy!
Just Synth and lots (!) of vocals, mostly of the tribal sort, including throat-singing. Also added some weird vocal-sound-experiments with flanger/reverbs/harmonizers ... to cause some "interesting contradictions and frictions" in style ...
Some lines above I wrote, I'd visualize images first ... this track came with a northern healing journey ... those acquainted with the realm of northern tradition might acknowledge this easily ...
So, that's it, folks ... I really hope you will enjoy this album ... stream along ...
Keep rocking!
Text and CD-Cover-Design © Ann-Uta Beißwenger April 2021.
Zurück zur Übersicht
Empfehlen Sie diesen Beitrag weiter!